We produce
Tanks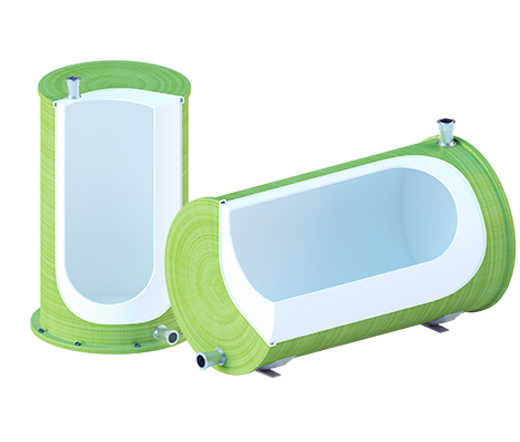 We manufacture tanks and reservoirs made of glass-fiber reinforced plastic (GFRP) for water, various wastewater, oil products, oils, chemicals and other liquids, mixtures, and bulk materials.
Reservoirs and tanks can be both horizontal and vertical, for underground and ground-based installation.
Solutions
Many years of experience, highly qualified professionals, and the quality control process allow to design and develop products in accordance with any aims and requirements of the customer.
Flexibility
Possibility of amendments and additions at the stages of design and manufacture.
Economical efficiency
Considerable cost efficiency compared to tanks made of metal and concrete. Long-lasting operation. No additional costs required for surface treatment and maintenance.
Custom design
Individual in-house design of tanks and reservoirs is available (designing and treatment with gelcoat).
Materials
Our products are manufactured from laminated fiber-glass reinforced plastic using special winding and spray machines (GFRP and GFP materials). The whole process is under the control of the qualified professionals.
Complete set
Upon our customer's request, tanks and reservoirs will be completed with pumps, control systems, pipelines, gates, and other improvements.
Full service
We provide full service — calculation, design, manufacture, packaging, delivery, installation supervision, starting-up and adjustment, as well as maintenance. Turnkey solutions.
Le point sur les actions de l'Assurance Maladie. Le montant de vos indemnités journalières peut être réduit en tout cialis 5mg cialis ou partie :Si votre arrêt de travail n'est pas ou n'est plus médicalement justifié. Si vous exercez une activité non autorisée par votre médecin.